What can go wrong with the recording of the drums? I think everything can go wrong if you don't have the right mics and the best drum overhead mic stand. Of course, the drum overhead mic stand is crucial, not only in recording the drum tracks but also in capturing the drum sounds. The drum overhead mic stand can get the mic up very high. Moreover, it can provide stable support for large condenser mics.
If you're a drummer, you will readily recognize the value of the overhead mic stand in your performance or recording of drums. Yet, not many drummers would admit to the importance of these stands. If you are a studio owner, you will see the importance of this mic stand in the mic's proper positioning over the drum kit. Thus, if you have a home recording studio, you should invest in an excellent drummer overhead mic stand.
Most Recommended Drum Overhead Mic Stands
The sound of the overheads can either make or break your recording. Thus, the overhead stand should be sturdy enough and flexible enough for easy setup. However, overhead mic stands are myriads, and choosing one immediately becomes a headache for the uninitiated. So, we manage to provide you here with the best drum overhead mic stands to facilitate the choosing process for you:
---
1) Ultimate Support MC-125 Professional Studio Boom Microphone Stand
The Ultimate Support MC-125 is one of your excellent options when it comes to drum overhead mic stands. It is equipped with rollerblade-style caster wheels that offer effortless rolling for moving around the mic stand with ease. It also comes with locking casters that fix the mic in a particular place.
The Ultimate Support MC-125 belongs to the pioneering mic stand that comes with an adjustable counterweight. This counterweight feature is essential when you are using heavier microphones. Made of die-cast, this counterweight weighs around 5.75 pounds.
The range of the stand's height with casters is from 51.5 inches to 82.75 inches. It also comes with an excellent base—a 35 pounder that shows no problem holding a large condenser microphone. It's likewise very easy to set up and belongs to one of the best microphone stands in the market today.
---
2) Latch Lake micKing 3300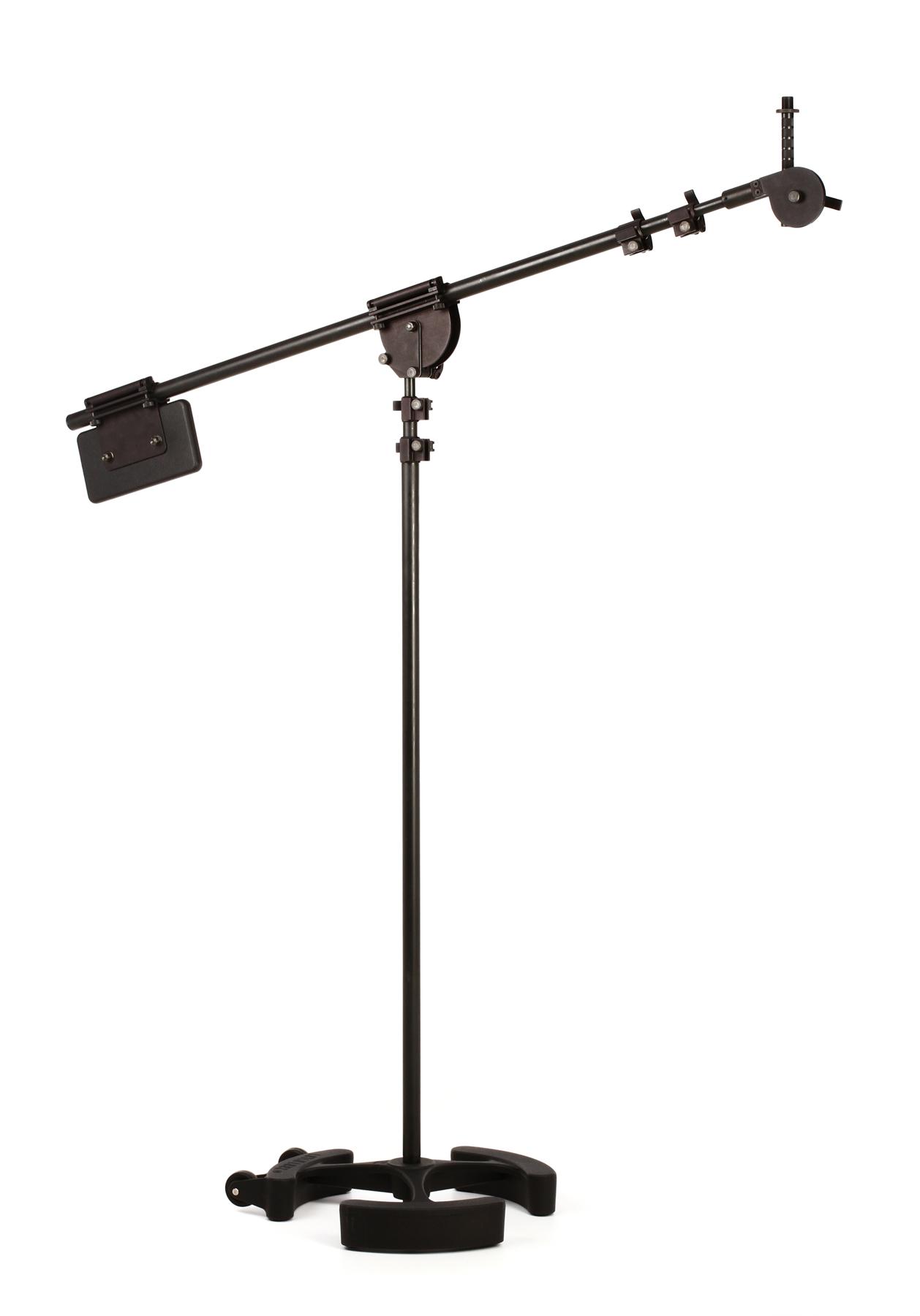 One of the incredibly reliable and stable microphone stands for mounting your expensive studio microphones is the Latch Lack micKing 3300 microphone stand. It is compact and durable and comes with a well-crafted boom stand. With this mic stand, you can practically position your microphone at any angle. It features a Spin Grip mount that allows for easy setup and easy dismantling of the microphone.
The Latch Lake micKing 3300 comes with a movable counterweight that allows for easy placement for optimum balance. It also comes with a base that offers maximum stability while running the cables underneath the stand.
The design and quality of the built of this stand are remarkable. Its locking mechanisms function well, allowing you to fixate the position of this stand anywhere you want. For the average users, this mic stand is a bit expensive. But if you're going to build your studio, this one is a worthy investment. With this mic, you can enjoy the use of your expensive mics without worrying much about their support.
---
3) Atlas Sound SB36W Studio Boom Microphone Stand
The Atlas Sound SB36W is one of the finest boom stands in the market today that features a piston-type air suspension mechanism for the optimal protection of your microphone. It features silent-motion swivel casters made of hard rubber for absorbing vibration and for frictionless mobility.
It also features a two-piece horizontal boom assembly made from 7/8-inch cold rolled steel. Moreover, it comes with a heavy-duty gyromatic swivel (die-cast) along with an adjustable 6-pound counterweight for precise and stable orientation.
The Atlas Sound SB36W's tubing ends with an adjustable mic holder swivel that comes complete with 5/8″ thread size with 27 tpi for accepting microphones, adapters, and holders. It also comes with guide clips for cable attachment. Its vertical tube assembly is made of 11/8″ and 7/8″ cold rolled steel (chrome-plated that includes wearproof, grip-action clutch (Atlas Sound) for quick adjustment and firm locking.
The range of height of this microphone stand is from 49″ to 73″. Moreover, it comes with a triangular metal base that features edge-concentrated weight distribution for extra stability. It also comes with ebony epoxy finished along with a chrome shell.
---
4) On-Stage Stands SMS7650
The On-Stage Stands SMS7650 is another excellent option if you are looking for a professional-grade studio microphone stand. It is also perfect for a wide range of applications both in the studio and live situations. It is sturdy and dependable and is better than 5B96+ because of its enhanced features.
The On-Stage Stands SMS7650 is equipped with a rolling base (weighing 17lbs) for excellent stability. It also comes with two boom shafts of different lengths, giving you other length options with a maximum of 82 inches. Thus, it affords you greater positioning flexibility.
With its stable base, you can mount your bulky condenser microphones onto it without worrying whether it will topple down. Moreover, it comes with a steel counterweight for optimum stability. This microphone stand also comes with a 7″ arm extension. Plus, its base spread is 18″ without casters. Furthermore, its total weight is around 40 lbs.
---
5) Tama Standard Series
Another great choice is the Tama Standard Series if you are looking for an affordable overhead mic stand. You can use this mic stand for various applications like recording drums in your home studio or when performing live. It comes with an adjustable height of 38″ to 63″. It also comes with a 32.5″ boom arm and weighs around 7 pounds.
If you are searching for a less expensive option, you can always go for the Tama Overheard Mic Stand. With its more affordable price, it does sacrifice a bit some of its features. For example, it doesn't have rolling wheels. Moreover, it doesn't have a counterweight. Furthermore, it doesn't have that extensive reach compared to the previous mic stands. It is also significantly lighter than other mic stands; thus, it does not provide a sturdy base for optimum stability.
The upsides of this mic stand include its sturdiness and stability. Besides, it is easy to adjust and is useful for stage or studio applications.
---
Other Top-rated Overhead Mic Stands for Drum Kits
When Should You Use an Overhead Mic Stand?
You will often see overhead mics in live sound productions and live recordings for picking up ambient sounds, overall blends of instruments, and the transients. You will also find them in studio recording over the drum kit to get a full drum kit stereo image. Moreover, they are also used for making a full orchestra's stereo recording.
The mics' overhead positioning comes in multiple arrangements, and these arrangements depend on what the engineers, producers, and musicians want. These arrangements may include "A-B" spaced pairs and the "X-Y" coincident pairs. The spaced pairs are done when you suspend two directional microphones over the right and left cymbals clusters. The "X-Y" coincident pairs in which you hover two directional microphones over the drum kit's center, their capsules near the drum kit without touching it.
There are other overhead mic positionings like the Recorderman Technique wherein both microphones are of the same distance to the snare, and the distance between the bass drum and both microphones are the same. Another arrangement is the Gly John's method, in which you position an overhead to the right side of the drummer while aiming it at the floor tom to the kit's center.
If you are going to do an orchestral recording, you can use the Decca tree mic positioning. This arrangement is a spaced microphone array, initially set as a stereo A-B recording method with added center fill. In all these types of mic arrangements, you will use various kinds of overhead microphone stands.
---
Conclusion
When choosing an overhead microphone stand, you will need to consider several factors like stability and durability, counterweight, design, wheels, ease of assembly, and many other factors. Knowing these factors brings you a bit closer to figuring out the best overhead mic stand. Furthermore, if you know the top-rated overhead mic stands in the market today, your search for the best overhead mic stands becomes doubly easy.
Having the best overhead mic stand, of course, can facilitate the process of recording drums for you. Moreover, it can make it easy for you to set up mics for live sessions and performances. Thus, you need to carefully choose the overhead mic stands you will buy if you want to use them for various applications.